Sharing, conviviality and meeting are the values that serve as the thread of the TPR's festive program every year.
The Tahiti Pearl Regatta proudly claims its festive dimension. Every afternoon, once the races are over, sailors are invited to anchor on the dedicated moorings area. It's time for partying and chating between the crew. From 06:30 pm, boat shuttles will drive you to the party places. Ashore, participants are welcomed with flowers and a friendly drink, followed by the dinner and the dancing party.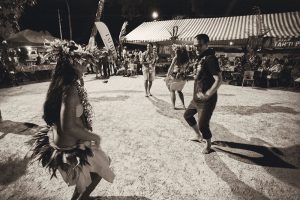 After the first race day, the sailors will moor late afternoon on Thursday, May 9 in front of the village of Fare, Huahine. In the evening, come ashore with the TPR boat shuttles, to enjoy the Polynesian diner & party (dress code Pareo) : welcome drink, Polynesian buffet, music and dance performance.
Friday night, the Motu Pearl Farm, a restaurant  located in the scenic bay of Fa'a'aha in Taha'a, will host the TPR Under-Water Party. Participants are invited to dismount with their fins, masks, snorkels and other underwater gear or dress code! Between the welcome drink, the buffet and the dance floor, why not a stop on the stand massage and foot-reflexology?
On Saturday, the prize giving ceremony will take place at Motu Ceran, on the sand and under the stars. An evening "Peace & Love" full of music and dance, to celebrate the winners of the 16th TPR edition, say goodbye and see you next year, for the 17th …
In Huahine, TPR boats are invited to anchor in front of Fare village. In Taha'a, they are welcome in the lagoon in front of motu Toahotu. Evenings moorings/anchoring areas will be indicated in the « crew folder » that will be distributed to each skipper upon registration in the TPR village. From 6:30 pm, shuttles will bring you to the parties and back to your boat. Please check the VHF channel number 8 to have all information on shuttles.